If your anything like me, which I'm guessing you are if your on this website reading this, your probably into some kinky shit. Even if you aren't the best part about swings and toys is you don't have to be an expert or super kinky. If you're just getting bored living in vanilla world with your basic sex swing set up or just want to take things to the next level I suggest you continue reading.

You don't need to be into a freaky lifestyle to enjoy these swings.
At any level of experience you can enjoy a little bondage! I know I wasn't very experienced in the world of bondage when I first started out and just like the sex swings I became a pro in no time.
I've been lucky enough to test out two of the best, and basically the only two on the market. The fetish and the TLC bondage swings. There are bondage accessories available but these two are the complete set. If you already have a swing you love there's always the option to simply invest in the screamer bondage kit which I'll get into in the following paragraphs.
At first glance these swings are identical. And to be honest they are.
The only obvious difference is the price. They both have that state of the art jersey neoprene seats and cuffs that remind me of something out of an old school space movie. The silver on white combo is not only sleek and sexy but totally makes you feel like your strapped in a device from deep space. If your a role player get ready for some fun.
Both these swings feature four neoprene quick release cuffs perfect for wrists and ankles. Or if you look at some of the pictures you can strap your wrists to his or her legs for ultimate control and a totally unique experience. They both are single hook, which if you've watched my other videos, read my other reviews, or read my guide, I'm not the biggest fan of since I'm pretty curvy. However, with these swings I find I'm still comfortable unlike other single hook swings I've tried. Maybe it's the super comfortable seat or the fact that I'm strapped in with my ankles and wrists I just don't notice it. If your a smaller built person the single hooks just might be ideal for you. Which, in my other videos, I go into more in depth. It's just my personal preference as well. Who knows maybe you like your ass being smashed! Pain is pleasure?
When it comes to bondage swinging, I prefer my screamer dual hook with their bondage kit attachments. As you can see from the pictures these are super sexy! Fur lined and leather, these wrist and ankle cuffs are incredibly hot. Unlike the cuffs included with the TLC and fetish, these are not quick release. These cuffs have buckles and hold you securely with adjustable sizing. The fur lining keeps you cozy and gives it that something extra these others don't. The can clasp onto any swing or most stands. They're versatile. They're sexy. They're a great introduction into bondage if your not ready to commit to buying a specific build bondage product like the TLC or Fetish. Honestly, I'm happy with my screamer dual hook swing and the screamer bondage kit.
I should mention clean up. Let face it, if you are doing it right, sex can be a little messy. In general, swings can be a little difficult to wash, I recommend just taking them in the shower, hand washing them ring them out as good as possible and handing them to dry. I like using baby wipes for my screamer bondage cuffs and just some water if things got a little too sticky! If you take care of your toys they'll last a very long time. Treat them with respect. Especially if you've purchased a pricy one.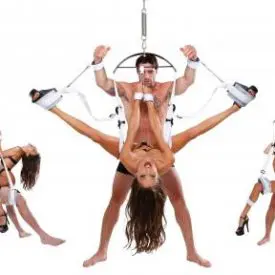 I love all my toys, some more than others. I'm lucky I get to try them all and be choosy.
They all serve their purpose and all have their place. These are just my opinions and personal preferences. When you're looking to get into some light bondage play these three are my favorite to play with. They're the best selling and highest quality items I've had the privilege of testing. All three are available on the website. You can't go wrong with any of them. I hope this helps in your decision-making process. If you have any questions you can always reach out to me through this site or on my Instagram