Sex swings are expensive so choosing the right one is very important. Sure you can get one for $50 or something, but if you use it once, I consider that expensive. If you spend $120 or $150 and get the best swing for you and you use it ever week, that is a much better deal.
Today we are going to help you wade throught he mess and figure out which swing is perfect for you.
Better Sex Swings
There are a lot of different features on a sex swing that separates the good from the bad. Some of these differences are personal preference, some are related to your body type and sometimes swings have features that just make them better. This is not like comparing apples and oranges. More like comparing boy shorts to a G-string. Both are sexy, but one fits comfortably and the other can pinch and ride up your butt. Depending on you! Your size, weight, preference, and level of kink.
"For me, the Screamer dual hook stands out above all for a number of reasons including the dual hook width, the wide webbing seat, the storage bag, the quality and the features of this swing that others have." ~ Cami, Sex Swing Expert
But like I said, everyone is different and what works best for me, may or may not work best for you.
Types of Swings
There are 3 main types of swings. door swings, sex swings, and sex slings. Each of these has its own distinct uses and advantages.
A door swing is the ultimate in portability. Normally they come with 2 stirrups and high-end models come with a seat strap. These are the most affordable swings, usually well under $100. Personally, I love them, it is like having your man hold you up against the wall and having his way with you without pulling his arm out of its socket. But they are not for everyone because being against the door it limits your range of motion to only a few positions.
The real power of the door swing is that it can be installed in seconds on any sturdy door and that makes it perfect for quick use, rental property situations or even hotel rooms. Yup, I travel with mine all the time. You never know when it will come in handy and it is compact and only about 2 pounds.
The sex sling is the clear leader if you are looking for just comfort. If you are looking to relax and be comfortable, a sling is the best option for you. With a sling, you will give up a lot of flexibility in terms of options for different positions and it is a little more difficult to install, but the comfort can't be beaten. This is where you can sit and read a book or watch football when you are not using it for those orgasm inducing calorie burning sessions.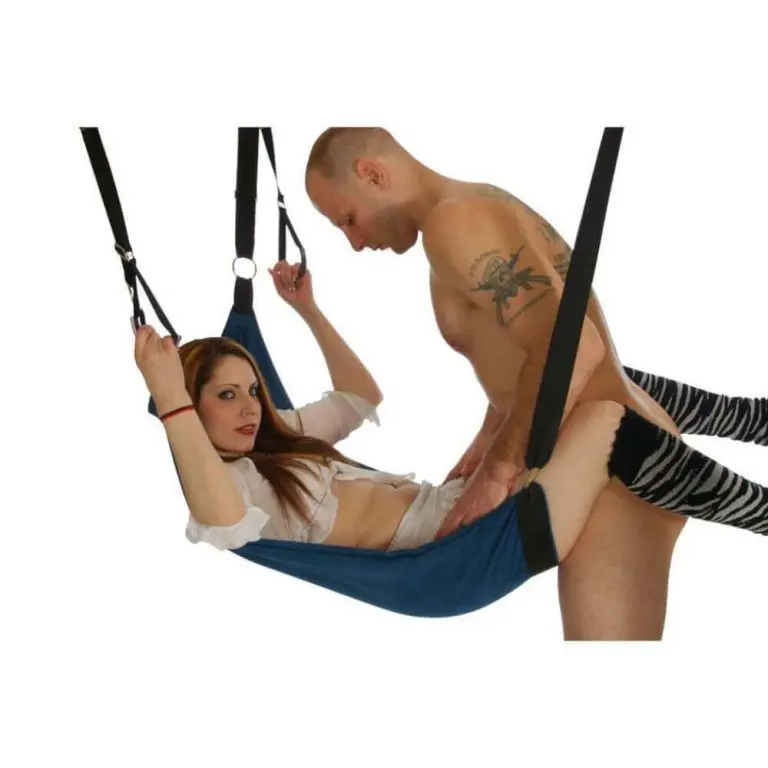 Sex Swings are the most popular. These are what most people think of when they hear sex swings. They typically have 2 straps and 2 stirrups. They have the greatest flexibility as far as the number of positions but they give up just a little bit of comfort over the sling. For most of you, this is what you are looking for so this is what I will focus on for the remainder of the article.
Swing Comfort
Purchasing the most comfortable swing available should be your primary goal. There are a lot of features, colors, and fabrics, but in the end, comfort will be the top factor in how much you enjoy your purchase and how often you will use it.
"I don't know about you, but for me, I like sex to last longer than 2 minutes. I think 20 minutes is a better number to shoot for. If that is the case for you, choosing the most comfortable swing for you is important. There are swings that I can't sit in for 2 minutes and there are those that I can take a nap in. Aim for comfort, and you will be rewarded." ~ Cami
There are 2 main reasons that a swing can become uncomfortable. The first issue is that some have very narrow of flimsy straps. This just sucks. It is like sitting on a piece of rope, cutting into your thighs, making your legs fall asleep, leaving red marks, etc. This will not work for me. You want to have a something that displaces your weight over a larger area. This is why slings are so comfy, they are a full sheet of fabric/leather that displaces your weight over your whole body area. Obviously, we are talking swings here, not slings, the same concept applies. If you want comfort, you want to have nice wide straps and padding to spread our the pressure and increase comfort.
To do this you need a very firm and wide foam such as the Whipsmart Pleasure Swing, or you need foam and very wide support webbing like the Screamer. If you have one with a flimsy weak foam on a narrow strap, you will not be as comfortable. Now I will say that some very small light girls can get away with this, but in general, you want the wider webbing or firmer foam for comfort.
The second issue that comes into play is the width. If a swing is very narrow, it will squeeze your hips and the sides of your upper body. This can cause discomfort, the longer you use it. Like above, some very petite girls can get away with the narrow ones, but in general and especially for those with wide hips, wider is better. The width can vary from the Whipsmart Pleasure Swing on the narrow end coming in at 14 inches wide to the Screamer Twist at 23 inches wide or a dual hook that can be variable up to 40 inches wide or more.
It does not sound like it would make a huge difference, but it does. As an experiment, I took a narrow swing and had my husband rig it so the straps were wider, making it feel like it was 4 inches wider at the top makes completely feel different- wider is better!
One last tip for comfort. If you are using a swing and laying back in a more horizontal position, your neck is going to start hurting pretty quickly. If you like to use it in more upright sitting positions, this is not a big deal. But to just lay back and go at it for 20 minutes would be very hard on your neck. So for this reason, I always recommend having a headrest. This is not needed for slings because they have head support built in and door swings because they are more upright and the door supports your head/neck, but for sex swings, this is pretty much a required accessory.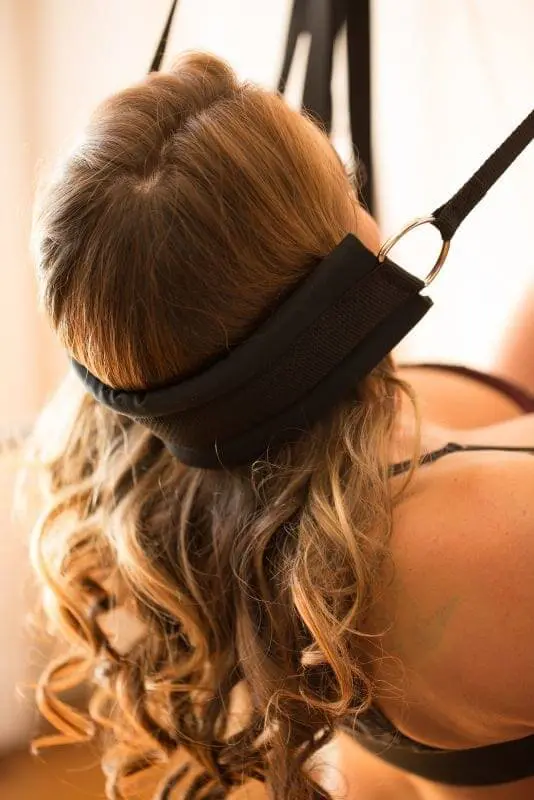 Installation Type
It is important to consider where you are going to install your sex swing and make sure it is done properly. The last thing you want to do is have a Kardashian moment where you install it wrong, it pulls out of the ceiling and you land on your ass. That is a mood killer.
Swings require either one or two mountings points depending on which type you choose. If your biggest concern in life is how you are going to explain a ceiling hook to your mother in law, you will want one that requires one hook in your ceiling or even better one of the many methods that do not even use a hook in your ceiling.
If you are one that does not give a shit what your mother in law or anyone else thinks go with the dual hook options and put two hooks in your ceiling.
There are some real advantages to the dual hooks. First, they can be set much wider which as I mentioned above can make them much more comfortable. Additionally, your weight is divided among 2 points rather than all in one spot so you are a lot less likely to have that Kardashian moment.
The biggest selling point of the single hook swings is that they can be made to spin. Some come with a swivel hook, for others, you can just purchase a swivel and add it yourself. Yeah, spinning can be fun sometimes, but it is more of a novelty that wears off and is not really needed for just doing the deed.
Sex Swing Features
After we get past the comfort and the installation issue, it is the little things that make all the difference and really start to separate the good from the bad.
For example, removable straps. This does not really sound like a big deal, we have all see the pictures like this, where the girl is sitting in the swing with her feet in the stirrups and the guy standing between her legs just pounding away. This is great, but most women know that if you were doing missionary and you pull your legs way up in the air or your knees toward your chest, it rolls your hips and give you a deeper penetration and a lot better chance of g-spot stimulation.
Well if you have a swing without removable straps such as the Trinity or the Fetish, the highest you can adjust your stirrups is to a height about even with your hips…. so the equivalent of laying flat on a bed.
With removable straps, you can detach the stirrup straps and re-attach them at a point much higher up such as your mounting hardware or even your ceiling mounts. This will give you the very high leg, deep penetration that many women seek. This is only possible with removable straps.
With removable straps, you can also make use of the Screamer squatting attachments. While it is not technically a sex swing, you can use the parts from your swing to have a little extra fun. For many guys, there is the fantasy of a woman standing over him and lowering herself slowly on to him. For most women, this sounds like a leg burning workout from hell. Well, that is where the squatting attachments can help. They are not designed to support your weight, but to give you a little extra boost so you can perform tricks like his favorite porn star.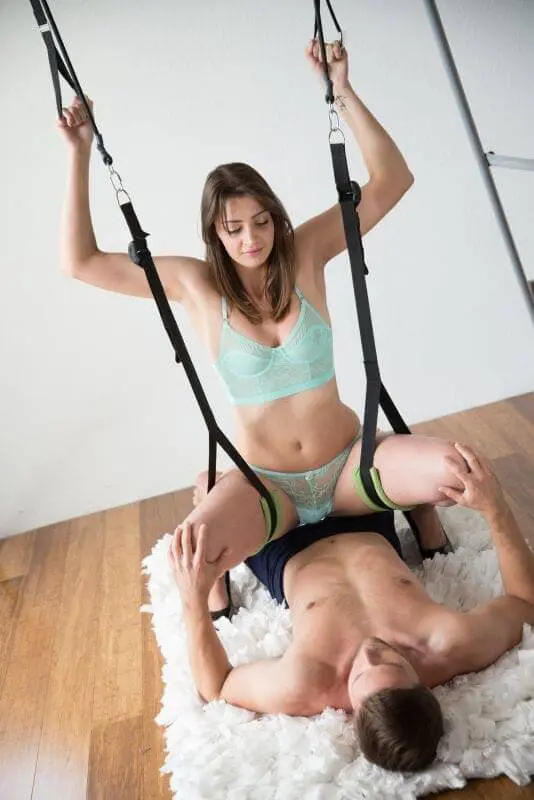 This also is only possible with removable straps because you need to remove the two main straps and then use the stirrups on your thighs with the squatting attachments. So if this is in your man's fantasy list, definitely grab a swing with removable straps, a set of squatting attachments, maybe some heels and make magic happen.
"My incredible wife decided to surprise me for my birthday last week with stiletto heels, a very little black dress and these squatters. The POV with this was the best gift ever!" ~ Brian H., Proud User
Beyond the removable straps, a couple of other features that may make a difference are handles and storage. Only the Screamer swings come with handles. This is important to some people, and not to others, it is just something to consider. Handles can attach to the swing or the seat strap to give guys something to pull on for deeper harder thrusting, other times some women just like having something to hold on to so they have something to do with their hands.
For storage, it is always a little tricky, for most swings such as single hooks, I just recommend hiding them in the back of the closet on your hanger bar since they really do not fold up well. Screamer swings come with their own storage bag so you can store it anywhere or bring it anywhere. The bags are also big enough to bring along a couple of accessories or your favorite toys as well.
Bondage play is also an option. There are 2 swings that are built for bondage play, the TLC Bondage swing, and the Fetish Bondage swings. Both of these are very similar to each other. They have neoprene and webbing cuffs, 2 wrist and 2 ankle cuffs. They have short connector chains that can be connected to the 6 attachment points on the swing. They look sleek and nice and they are really not bad They are not the most comfortable, but they are reasonably priced. If you play rough, I would like to mention the cuffs connect to the swing by a chain, but these chains are very weak and will break.
An alternative option is to go with the Screamer swing and add the Bondage cuffs accessory. It is sold separately, but the cuffs are real leather and have a sturdy webbing strap. There are 12 points you can connect these cuffs to the swing and if you purchase a Screamer stand, there are an addition 12 points there (the Screamer stand has a storage bag as well). That should give you just about all the options you need.
For comfort, the Screamer will easily beat out the Fetish or TLC, and the leather cuffs are far nicer than the webbing and neoprene cuffs, but it does come with a much higher price tag. So everything has its pluses and minuses.
Lastly, I should mention clean up. Let face it, if you are doing it right, sex can be a little messy. In general, swings can be a little difficult to wash, I recommend just taking them in the shower, hand washing them ring them out as good as possible and handing them to dry.
With swings with removable straps such as the Wild Side, Whipsmart, and Screamer you can remove all the straps, put them in a mesh laundry bag and machine wash. Then you can dry on air or low settings. You must remember that plastic hardware and webbing can both be compromised by high heat.
The Sex Swings
The Fetish Fantasy Deluxe Door Swing
There are a lot of door swings on the market under a number of different brands. They are all very similar with the main difference being if they have a main seat strap or not. There are 2 Fetish door swings, for example, a regular and a deluxe. The deluxe has the main seat strap and the regular does not. For me, I am going with the main strap every time. There is nothing fun, comforting or relaxing to me about hanging from only my thighs. So for me, the Fetish Fantasy Deluxe is my go to door swing.
The Whipsmart Pleasure Swing
The Pleasure Swing is one of my favorites. It comes in 5 colors and it has firm-wide padding and as discussed earlier, that is great for comfort. It has removable straps and that can add a lot of versatility and the price is moderate. The biggest downside to this swing for me is the 14 inch with. That is just very narrow on my hips
The Fetish Fantasy Swings
Fetish Fantasy swings are fun because they come in 3 colors of purple, pink and black. It is wider than the Whipsmart at 21 inches, but the padding is not firm at all and to me that makes it less comfortable than the Whipsmart. It does not have removable straps, but the straps are a satin material if that is something that you like.
The Trinity Sex Swing
The Trinity Sex Swing is the budget-friendly option. It has a 21-inch bar, but the padding is very weak so the comfort is pretty low, but the price is low as well. If you are looking for a budget-friendly single hook, I would consider this swing the minimum. There are cheaper ones available on Amazon and Ebay, but they are basically all fakes that have serious design flaws are most lack any type of comfort and some are just downright dangerous.
The Wild Side Sex Swings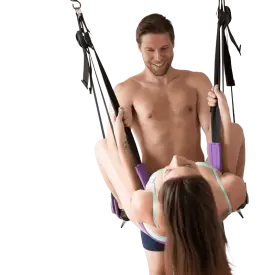 If you are looking to stick to the budget but can have a dual hook swing, go with the Wild Side. This is a no fills product that comes in 4 colors. The padding is medium firmness and the dual hook option makes if a variable with and much more comfortable than the Trinity.
The TLC and Fetish Bondage Swings
The TLC bondage swing and the Fetish bondage swing are based on the same design as the Trinity sex swing with a 21-inch bar and thin foam on the webbing straps. These swings are not all that comfortable for extended periods but they definitely look cool and the bondage cuffs add just a little something extra.
The Screamer Sex Swings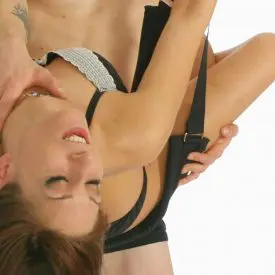 Screamer is the Cadillac of sex swings. There is a single hook and a dual hook option. The single hook has a very wide bar at 23 inches and the dual hook is variable width. This is the only swing based on wide 4-inch webbing straps with a 4-inch foam padding. They are also the only one that includes a storage bag, handles, and all metal hardware. This is a higher priced swing, but the Screamer Dual Hook is my go. The single hook twist is great for parties and with the storage bag is perfect to grab and go!
Accessories
Stand
A swing stand will allow you to install a swing without a ceiling bolt. These are great for apartments or being portable if you are someone that wants to bring them to parties. They do have a high cost and the also take a large footprint on the floor. But portability and ease of assembly and storage can't be beaten!
Squatting Attachments
A great something extra that can be added to removable strap swings such as the Screamers, The Wild Sides, and the Whipsmart sex swings. With the WhipSmart you may need to add a quick link.
Beam Mounts
This is a great way to install a swing if you have exposed beams in your house. These can also be used to add a bit of adventure if you want to use your swing suspended from a tree branch in your backyard or on your next camping trip.
Swivel Hooks
Only the Screamer Twist, the Trinity 360, Fetish Spinning and TLC Spinning Swing come with the spinning feature. But why be limited to these few. You can use a swivel hook to make any single hook sex swing into a spinner. For example, the Whipsmart makes a great spinner with the addition of a swivel.
Headrest
The headrest is the most important accessory for any sex swing. Just get it.
Conclusion
I know there is a lot to know, so feel free to contact me if there is something that I missed. I think that a swing can revolutionize your sex life, I know it did for me. If you are still not sure which is right for you, check out these